What is SAS?
SAS (Statistical Analysis System) is software for data inspection and report writing. SAS runs on Windows and UNIX and can be downloaded into Mainframe too.
This integrated software suite enables us to perform statistical analysis by altering, managing, and retrieving data from various sources to develop a software solution.
It provides a graphical point-and-click user interface for non-technical users and more advanced options through the SAS language (A computer programming language used for statistical analysis that can read data from common spreadsheets and databases and outputs the statistical analysis result in tables, graphs, and RTF, HTML, and PDF documents).
SAS is a batch of programs that work together to reclaim and reserve data values, reform data, evaluate complex and single exponential analyses, and generate reports. These programs have DATA steps, which retrieve and manipulate data, and PROC steps, which analyze the data.
Why SAS?
As a SAS professional, I can explain why SAS I would say it's a bit of a tiny subject but very unique, competitive, and leading within the analytics world. SAS is the main statistical tool certified by the FDA and IIRC. SAS is a Statistical Analysis System, i.e., a collection of software program tools created by the SAS Institute.
SAS programming has numerous applications, including the analysis of multivariates, predictive analysis, management of data, and business intelligence. Statistics show that 70% of analytics jobs are in SAS programming, followed by R and Python. It is an ever-evolving technology according to industry needs, which is one major factor in its favor.
SAS Job Profiles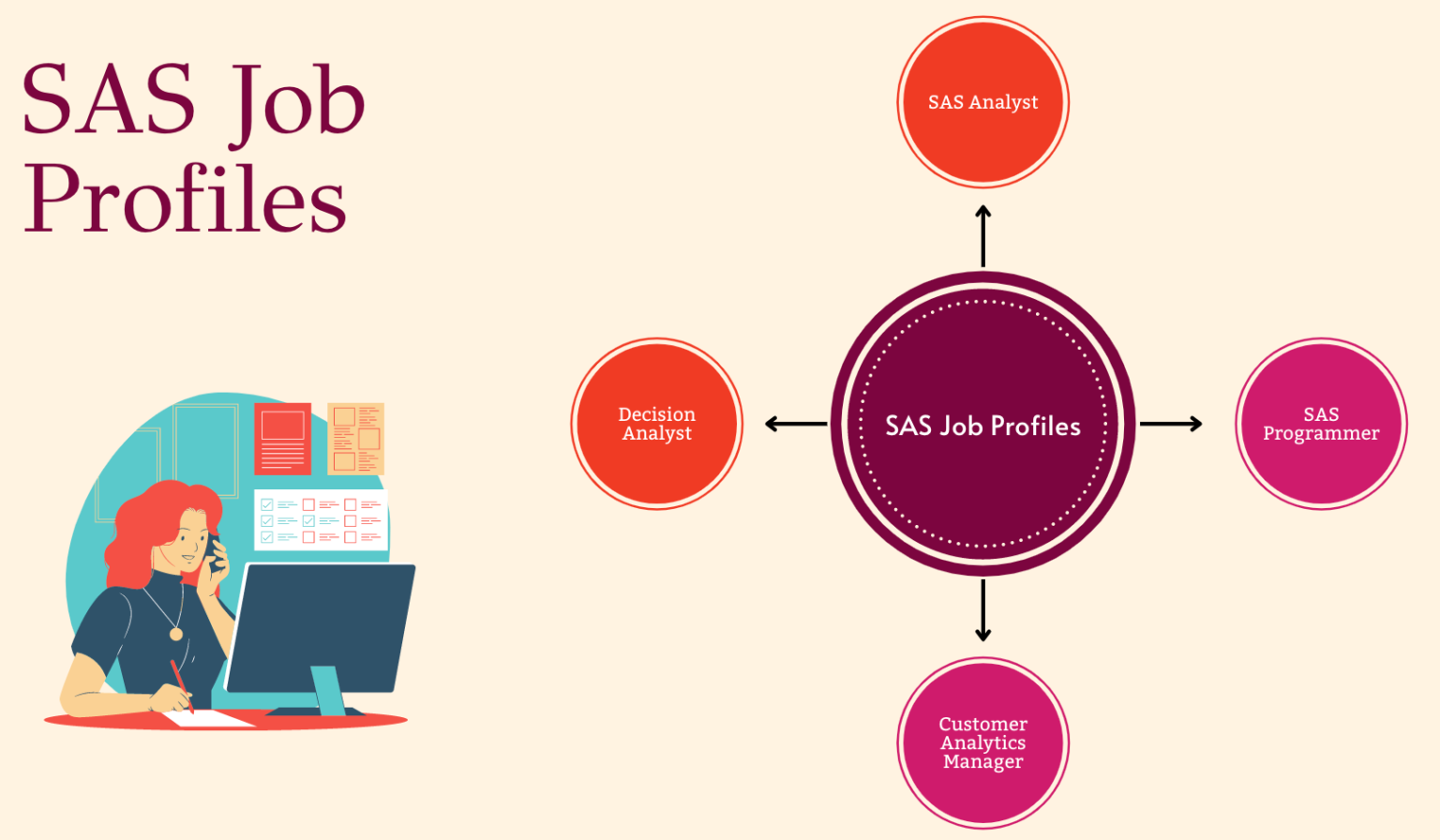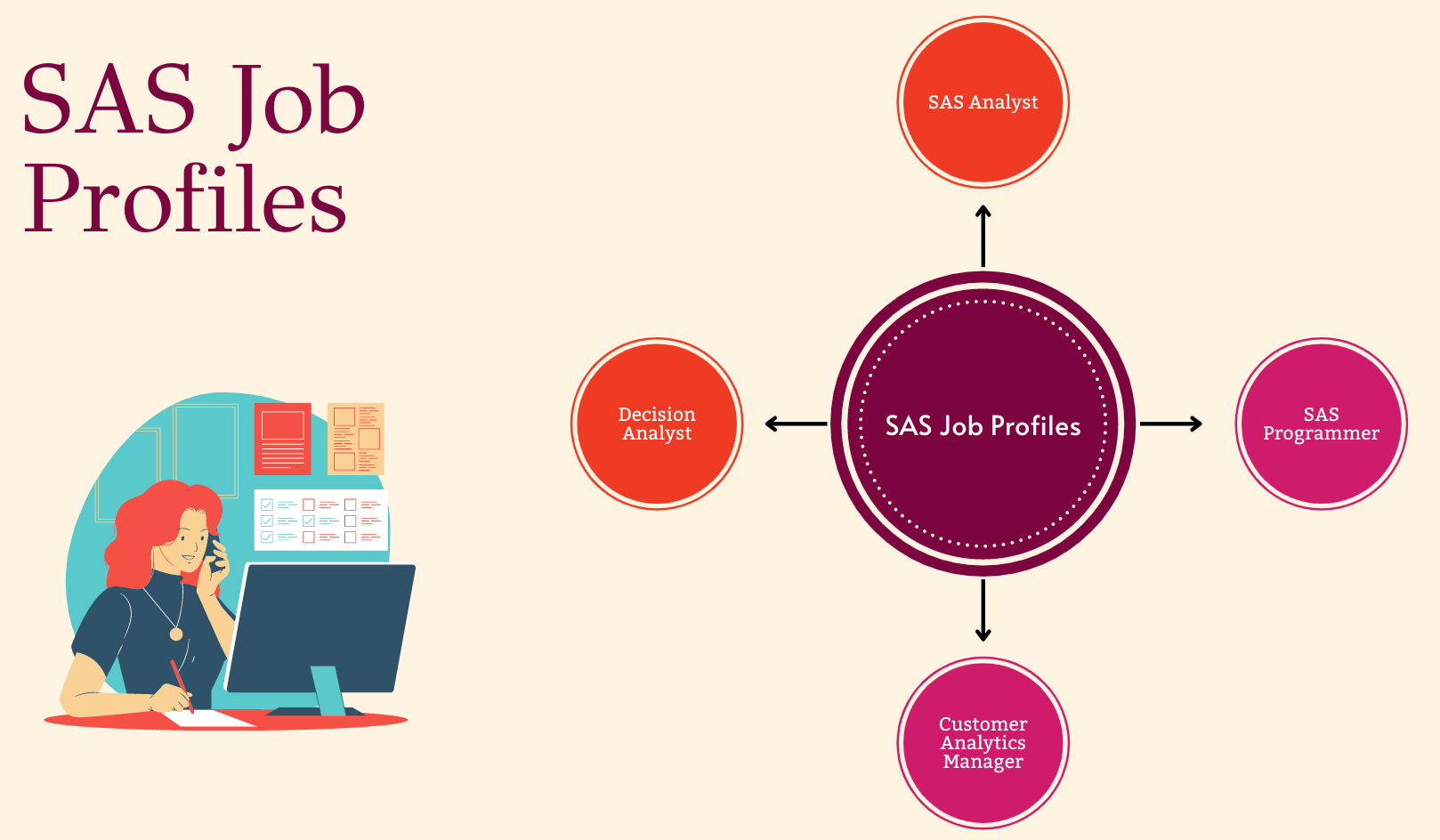 Below are some of the job profiles you can take up as a SAS professional:
SAS Analyst
In contrast to a SAS programmer, a SAS analyst is a business or financial risk analyst who uses SAS software products as his or her main tools for analysis. SAS analysts collect and analyze data to find patterns and outliers that can be used to predict future trends and estimate costs for an organization. They may also involve pre-sales analysis, working with clients, and giving them help.
SAS Programmer
A SAS programmer's work involves designing, developing, evaluating, and modifying SAS (Statistical Analysis Software) programs to analyze and evaluate data. They analyze the correctness and consistency of the data and create data listings and other essential reports for use in clinical studies and study reports.
Customer Analytics Manager
Customer Analytics Manager increases the lifetime value of customers by making smarter use of insights. They are responsible for the delivery of critical predictive and descriptive models. Additionally, they Define and practice data science techniques that are on par with the best in the world to guarantee that the insights gained are accurate, reliable, and repeatable.
Decision Analyst
As a decision analyst, you devise a method for locating a solution to the problem that can be shown conclusively using mathematics and make use of predictive analysis to demonstrate to your customer why the decision you are recommending is, in fact, the one that will provide a solution to his or her issue in the most effective manner that is now imaginable.
There is a huge scope of SAS for fresher. Banks are heavily using SAS, as are Insurance & other Financial Services companies like HSBC, Citi, JP Morgan, & Wells Fargo. So it's sensible to grab the opportunity if you get it by some means to learn and work on SAS technology.
SAS Modules
When you install SAS software, it has several built-in modules designed for various analytics and reporting purposes. See some of the common SAS modules or components.

BASE SAS
It is the most common SAS module. It is used for data manipulation such as filtering, selecting, renaming or removing columns, reshaping data, etc.
SAS/STAT
It runs popular statistical techniques such as Hypothesis Testing, Linear and Logistic Regression, Principal Component Analysis, etc.
SAS/ACCESS
It lets you read data from databases such as Teradata, SQL Server, Oracle DB2, etc.
SAS GRAPH
You can create simple and complex graphs using this component.
SAS/ETS
This module can perform time series forecasting such as ARIMA, Exponential Smoothing, Moving Average, etc.
SAS tutorials for Beginners
This course will teach you the basics of using the SAS statistical software. The objective here is to familiarize you with the SAS application and its structure so that you can start building programs to handle and analyze the data you have collected.
The following articles are designed for beginners who have no programming background or are new to the SAS programming language. You will learn the fundamentals of SAS and how to develop and run your first SAS program.
Base SAS Tutorials
These posts are designed to cover all the topics of base SAS certification. It includes an explanation of data structures, data management, data analysis, and report generation topics.
Getting Started With PROC SQL
The following lessons are intended for people new to the SQL programming language. PROC SQL is an advanced SAS procedure that helps to run SQL queries to manage and manipulate data. It includes an Introduction to SQL with examples, PROC SQL Joins, conditional statements and useful tips and tricks of SQL, etc.
Automate your work with SAS Macros
SAS Macro is used to automate repetitive tasks, i.e., tasks that you perform very frequently (every day or more than once a day). It includes useful tips and tricks for SAS Macro programming and outlines real-world examples of automation with SAS Macros.
SAS Advanced Programming Concepts
In this section, you can learn Advanced SAS Programming. It includes many of the Base and Advanced tutorials which would help you to acquire more knowledge of data exploration and manipulation, predictive modeling using SAS along with some scenario-based examples for practice.
SAS Analytics
This section covers how to perform data exploration and statistical analysis with SAS. It explains how to perform descriptive and inferential statistics, linear and logistic regression, time series analysis, variable selection and reduction, cluster analysis, and predictive modeling with SAS, etc. It will help you generate insights from data using statistical techniques.
SAS Programs
Here is the collection of the SAS programs. These SAS programming examples will help you to learn various concepts in SAS.