Why SAS?
Being SAS Professional I can tell you why SAS. I would say, its bit tiny subject however very Unique, competitive and leading within the analytics world. SAS is the main statistic tool certified by the FDA, IIRC.
SAS is Statistical Analysis System i.e. a collection of software program tools created by SAS Institute. SAS programming has numerous applications like the analysis of multivariates, predictive analysis, management of data and business intelligence.
Statistics show that 70% of analytics jobs are in SAS Programming, followed by R and then Python. It is an ever-evolving technology according to industry needs is one major factor in its favour.
SAS Job Profiles
Below are some of the job profiles you can take up as a SAS professional:
SAS Analyst
SAS Programmer
Customer Analytics Manager
Decision Analyst
There is a huge scope of SAS for fresher. Banks are heavily using SAS as are Insurance & other Financial Services companies like HSBC, Citi, JP Morgan, & Wells Fargo.
So it's sensible to grab the opportunity if you get it by some means to learn and work on SAS technology.
How to learn SAS Programming online for free?
You do not want to spend a whopping 6 months to learn SAS. You can go by the 6-week learning guide and turn your self right into a proficient SAS programmer.
Here is a step-by-step guide on how to get started in case you are a beginner.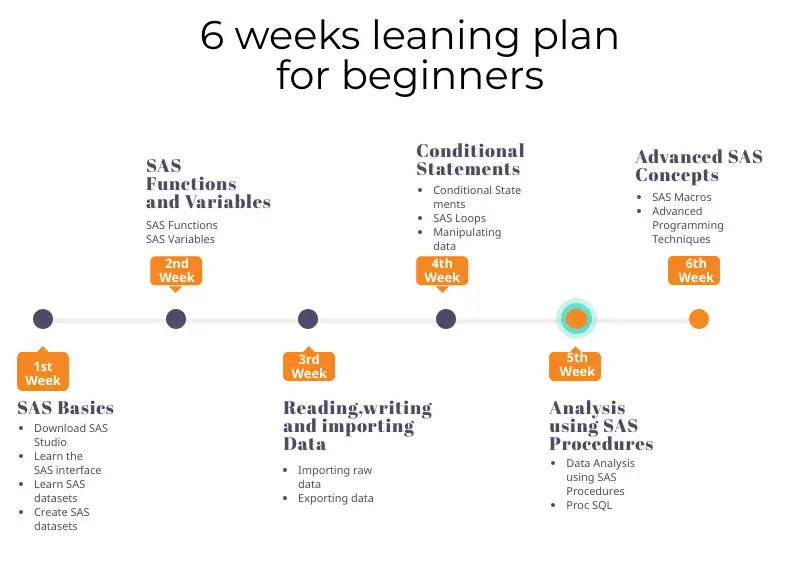 Step 1: Download & Install SAS Studio
SAS University Edition can be downloaded for free and it's available for everyone. You can both download it in your PC or use it from the Cloud.
Below are the articles that you can refer to download and set up SAS.
Step 2: SAS Interfaces
Before you begin writing any code, you will need to first become acquainted with the SAS interface.
Fortunately, SAS interface is pretty easy to understand. Below is the brief of every a part of the interface.
Coding Area
The coding space is positioned in the middle of the SAS Studio interface. This is the place you can write SAS programming codes.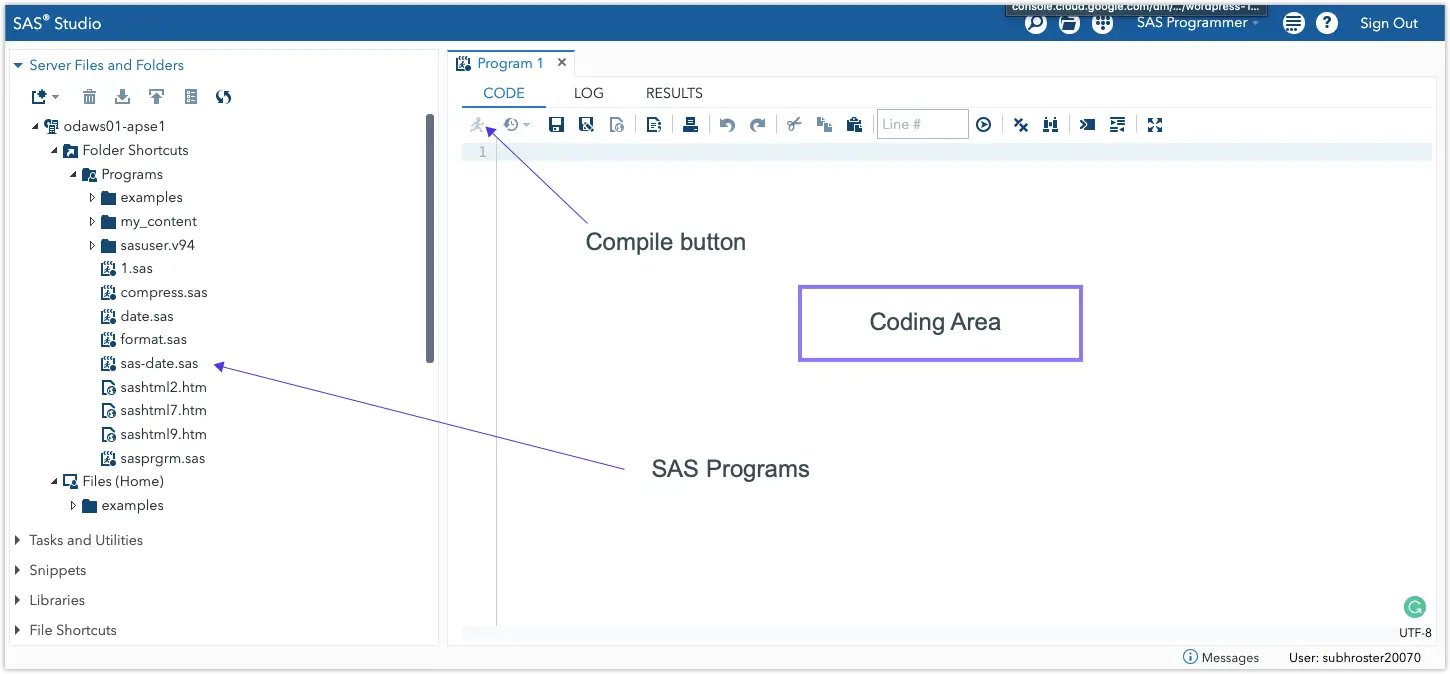 LOG Window
The LOG window shows the programming notes after you run the program. It provides details about the code execution and whether there is an issue with the program and other useful Notes.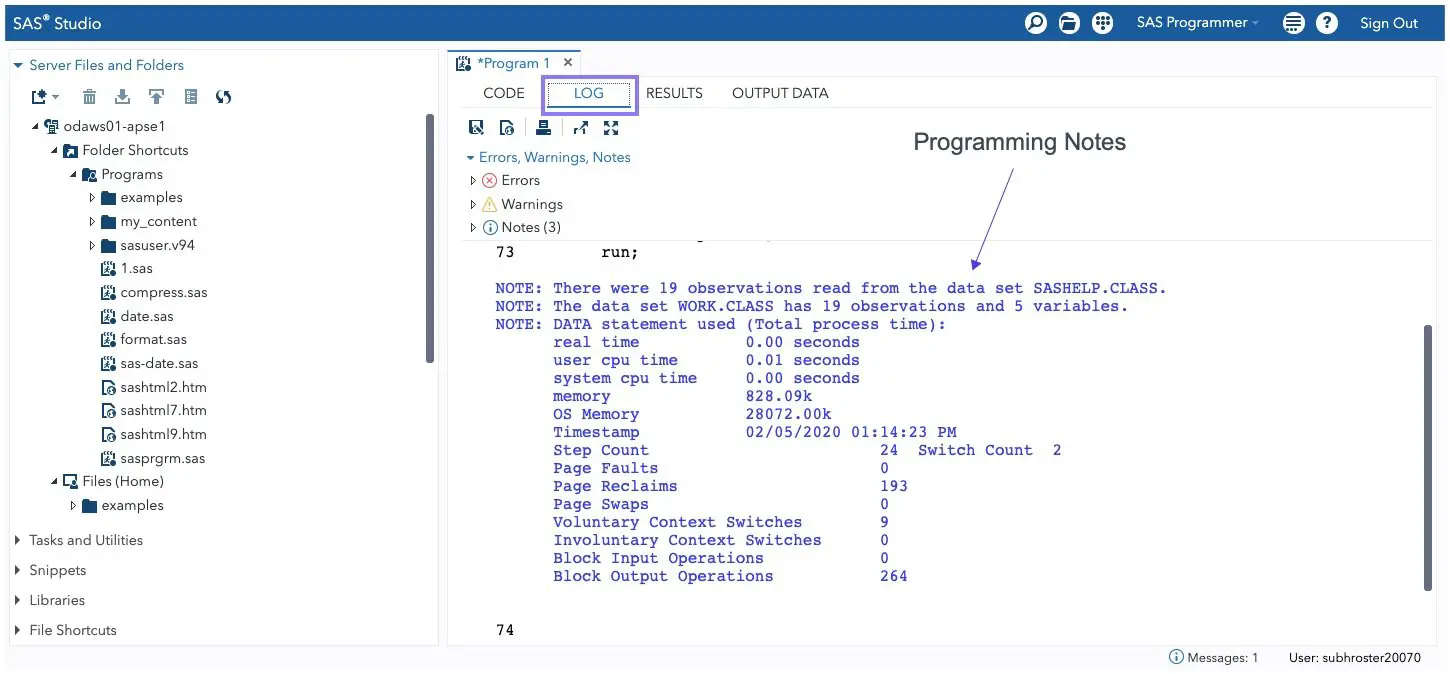 Results Window
The RESULTS window shows the report or analysis results when a certain procedure is compiled.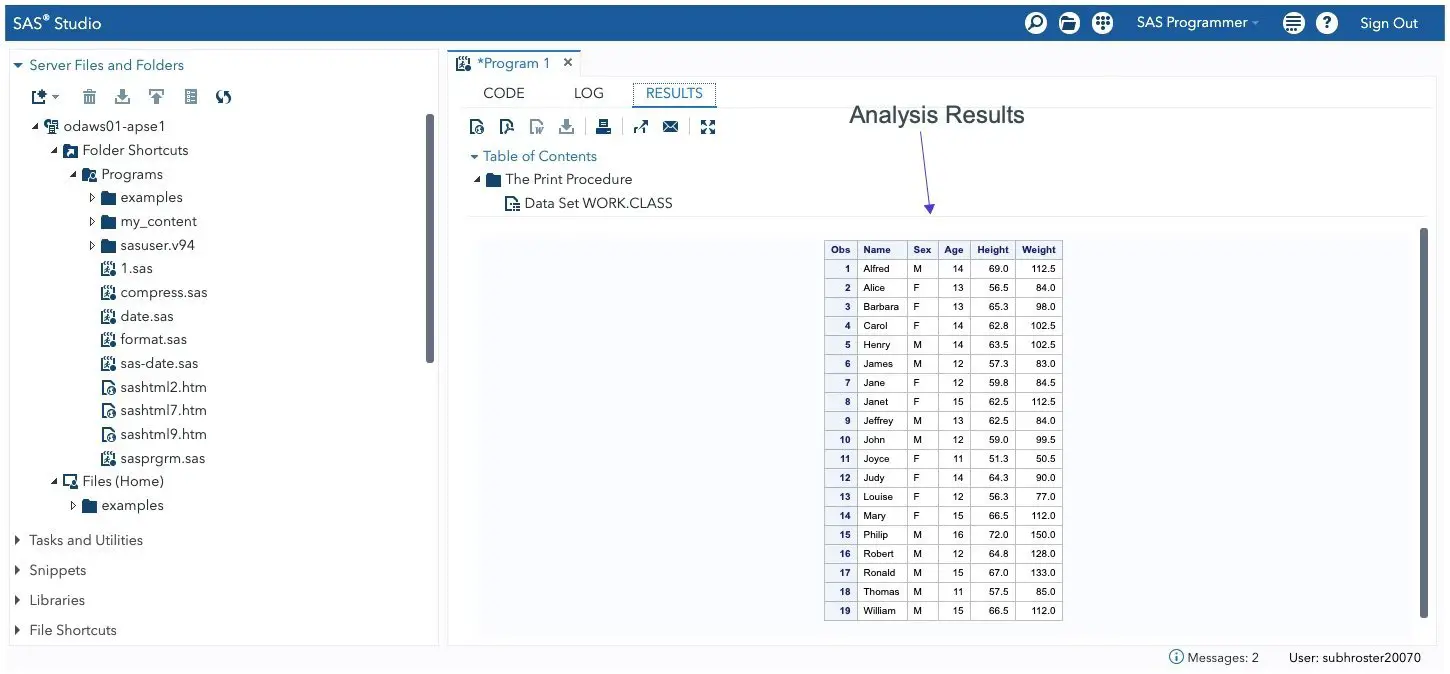 Output Window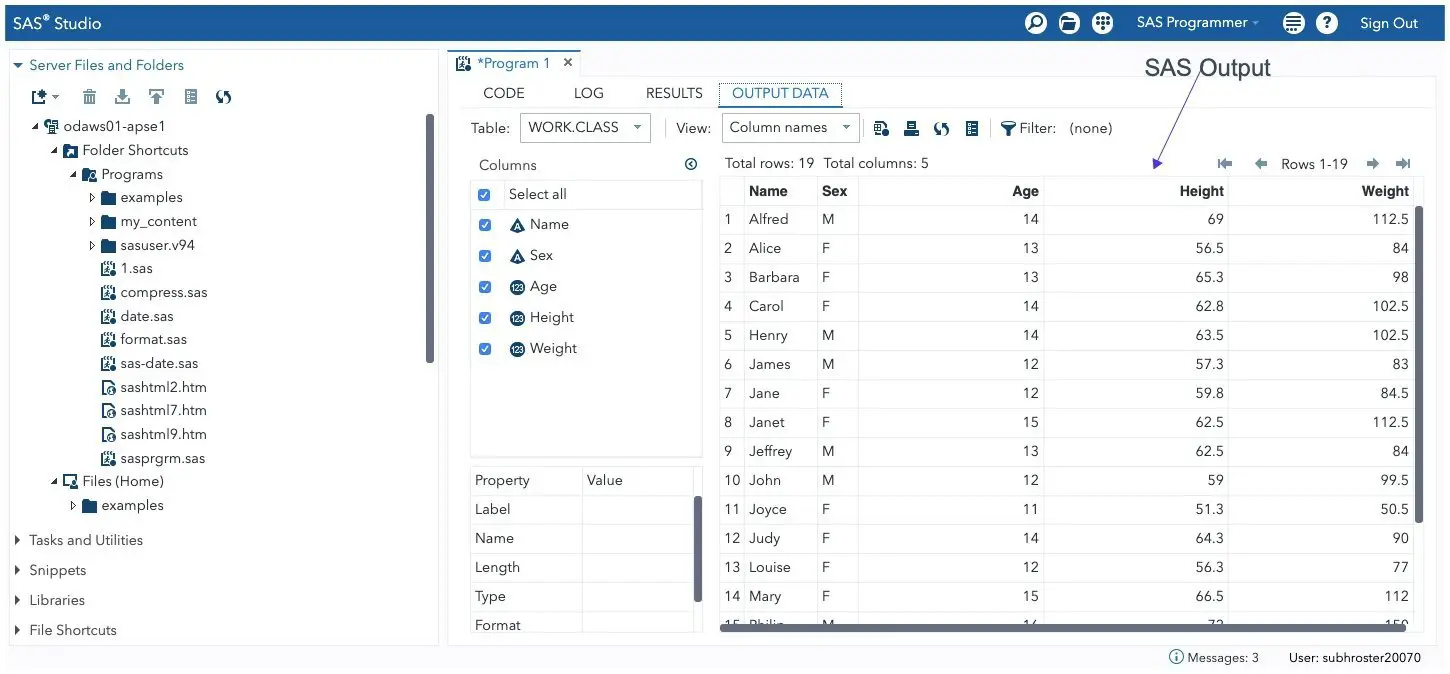 SAS Libraries
SAS Library may be seen as the folder that contains all the SAS files and datasets.
Learn more by referring to below the article.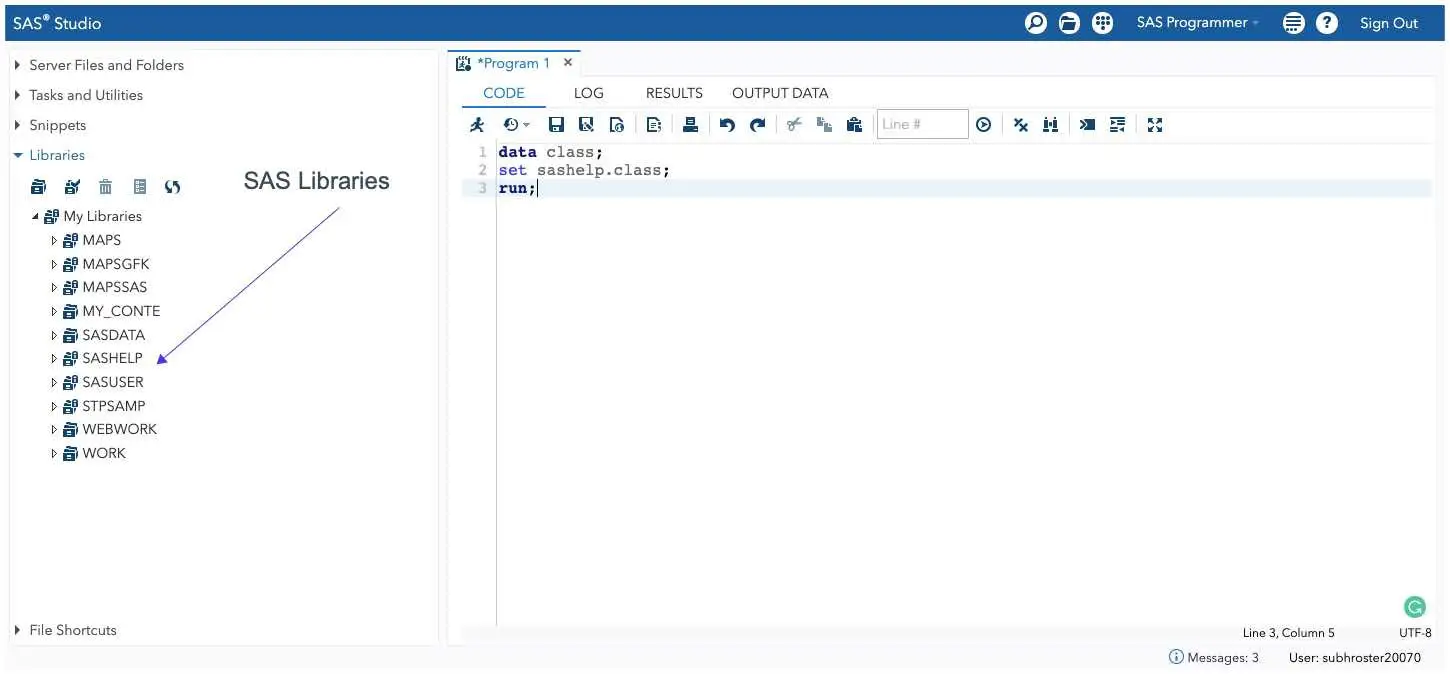 Folders
Folders allow you to organize your SAS programs and quickly access your saved SAS programs.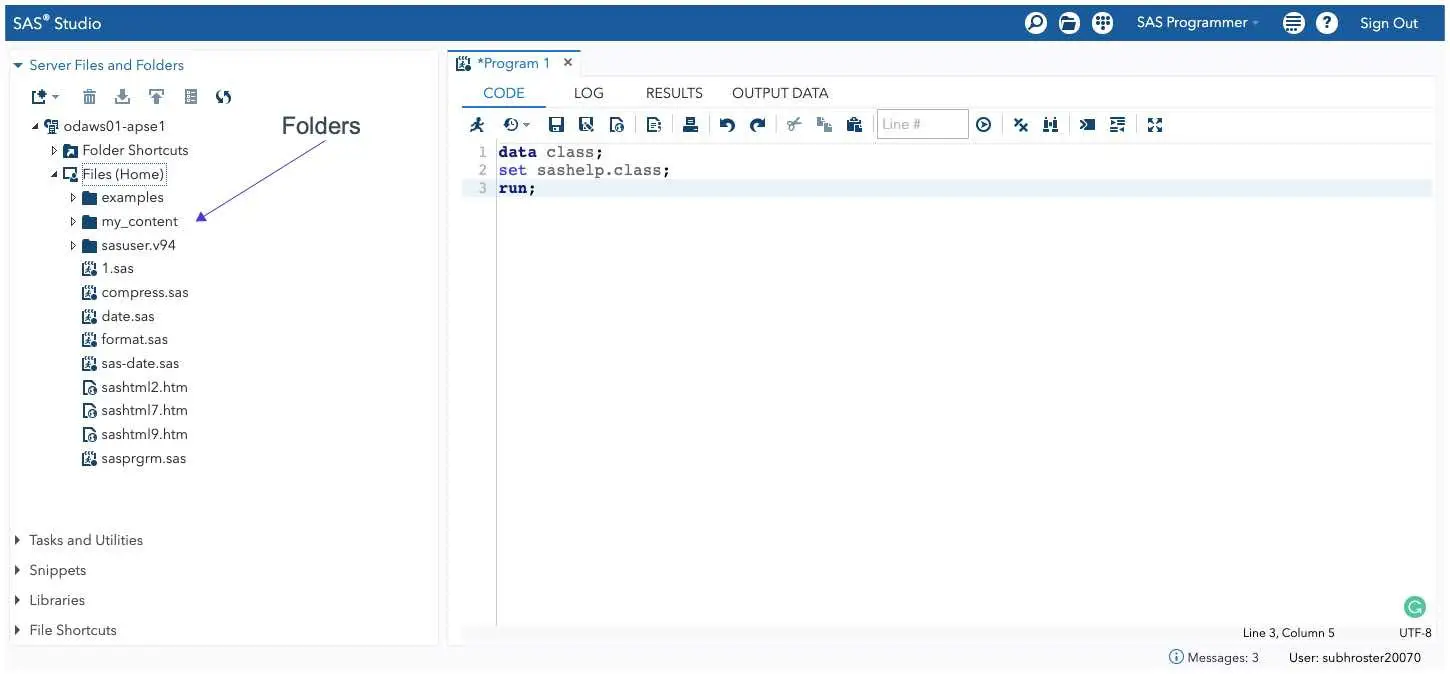 Step 3: Learn the SAS Library and Data Sets
SAS Library is the folder that comprises all of the SAS information. Learn about temporary and permanent libraries, how to create and permanent library.
SAS Programming – Basics of SAS Programming Language
Step 4: Learn How to Create a Data Set
SAS data set is the file that contains all the data. It is crucial for you to understand how to create data sets.​ Learn to create a SAS dataset and the datasets options that are available in SAS.
Step 5: Learn SAS Functions
Now that you have got a stable foundation of SAS data sets, it is time to begin learning how to manipulate data.
One of the methods to manipulate data is to use the built-in SAS functions.
Learn about the character, numeric and data functions in SAS. A simple example is using the SUM function to add up all of the numeric values.
You can learn about SAS functions from the below link.
Step 6: Learn SAS Variables
In SAS, there are 6 attributes that define every of the SAS variables:
Name
Label
Length
Type
Format
Informat
Learn about variable attributes from SAS Variable Attributes – SAS Help Center
Leann about the formats and informats in SAS from Ultimate Guide to SAS Formats and Informats.
Step 7: Learn Reading and writing SAS dataset
Data usually comes from an external source. It is important to learn how to read data from an external file.
Learn to import data in SAS from Import data into SAS.
Step 8: Learn Data Manipulations
SAS programs often involve data manipulation. Sorting and concatenation data are the few examples of data manipulations
Step 9: Learn Data Analysis
SAS is among the world's best statistical analysis software program. Below are some examples of the data analysis steps that are commonly used.
Step 10: Learn Proc SQL
Proc SQL is an advanced programming step generally used when working with data in the relational database. It can usually achieve identical results as the standard data step however with greater efficiency.
Learn the basics of PROC SQL from A comprehensive guide to PROC SQL in SAS (15 + Examples)
Step 11: Learn SAS Macro and Advanced SAS Techniques
SAS macro is one other advanced programming technique that enables you to carry out dynamic value substitution and automate repetitive tasks.
Other Helpful Resources for Learning SAS
So, you see learning SAS is very straightforward and people who don't have a programming experience can also learn it in a few weeks. There are various website and tools available which you can take advantage to increase your knowledge and understanding in SAS.
Below are a few of the resources that might help you to achieve your learning goals.
Buy from Amazon India
Resource #1: Free Official SAS Tutorials
SAS has provided practically 200 + video tutorials to allow you to get began learning SAS. These tutorials cover a variety of topics including SAS interface, accessing data, simple data manipulations, graph plotting and statistical analysis.​ It's an important SAS training resource for newbies.
Go to Free Official SAS Tutorials
Resource #2: SAS Discussion Forum
It is difficult to learn SAS by yourself without assistance. The SAS Discussion Forum is a platform where SAS experts can be found to provide suggestions or solutions to those that have simply begun learning SAS.
Bookmark this website, and seek to assist from SAS experts whenever you want it.​
Go to the SAS Community website
Resource #3: UCLA SAS Learning Resources
UCLA also has in-depth SAS learning resources on their website.
The free tutorials focus mostly on the statistical analysis techniques such as regression analysis, logistic regression, ANOVA, time-series analysis and so forth.
Looking to become a SAS data analyst? Take benefit of the free resources from UCLA and learn statistical analysis techniques using SAS. ​
Go to UCLA SAS Learning Resources
Resource #4: ListenData
​ListenData is a lesser-known however very full SAS learning website.
It covers many topics such as SAS fundamentals, data read-in, data manipulation, procs SQL, macro and statistical analysis techniques.
In addition, it provides SAS base certification questions and common SAS-related interview questions.
Whether you're a newbie or an intermediate SAS user, ListenData can be an important learning resource for you.
Go to ListenData
Resource #5: SAS Ask The Expert
You can learn SAS from live events held by SAS experts on quite a lot of topics such as SAS Studio, data management, SQL and macros, SAS administration and environment, visual analytics, enterprise miner, text miner, business intelligence and many more. Search for your topics of interest and register for the webinar.
Live events also give you the chance to ask the experts a particular query and get a response in real-time.
Go to Ask the Expert – Live Events
Resource #6: SAS Enterprise Guide
Enterprise Guide (EG) is becoming an increasing number of popular these days. The point-and-click software program is pretty straightforward to use. You can learn all of its functionalities by going by the official documentation.
Go to the SAS Enterprise Guide tutorial!
Best SAS Books for Beginners
There are plenty of SAS books available in various online and retails stores. I have handpicked 5 books which I feel is the very best book in SAS for beginners.
Book 1#: The Little SAS Book
The Little SAS Book is recognized because of the go-to textbook for SAS beginners. It provides you with all of the technical details about how SAS programming works.
If you've gotten simply began learning SAS, the Little SAS Book can be an incredible assist for you to learn the fundamentals of SAS. There is no doubt this is the best book out there on SAS.
Buy from Amazon.com Buy from Amazon India
Book 2#: Beginning SAS Programming: a true beginner's guide for learning SAS
The Beginning SAS Programming: a true beginner's guide for learning SAS is a 384-page SAS learning guide for beginners. It is written particularly for individuals who haven't any background in SAS in any respect.
Buy from Amazon India Buy from Amazon India
Book #3: SAS Essentials: A Guide to Mastering SAS for Research​
The SAS Essentials: A Guide to Mastering SAS for Research is one other nice useful resource for SAS beginners. It is full of practical examples and is meant for professionals in the area of scientific research.
Buy from Amazon.com Buy from Amazon India
Book #4: Learning SAS by Example: A Programmer's Guide
Learn to program SAS by example! If you want to study by example, then Learning SAS by Example: A Programmer's Guide makes it a straightforward book to learn SAS programming. In an instructive and conversational tone, writer Ron Cody clearly explains every programming method and then illustrates it with a number of real-life examples, followed by an in-depth description of how the program works.
Buy from Amazon.com Buy from Amazon India
Book #5: Carpenter's Guide to Innovative SAS Techniques
Carpenter's Guide to Innovative SAS Techniques is more for advanced SAS users. It provides advanced SAS programmers with an all-in-one programming reference that features advanced topics not simply discovered outside the depths of SAS documentation or more advanced training classes.
Buy from Amazon.com Buy from Amazon India