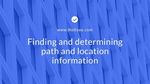 This article is about the techniques used for finding and determining path and location information.
Retrieve file size or last modified date of an external file – The FINFO functions return the value of a file specified. You can get six attributes named 'info items' through the use of the FINFO function.
Rolling Data also known as Moving average is a time-based calculation to get an insight into trends for a defined period of time.
If the time frame for the moving average is 12 months, the data that is 13 months old be dropped and the new month's data will be added.